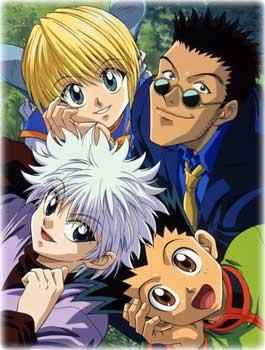 Warning: This site has already been criticized by many people because of wrong information. I built this fansite from scratch way back when online streaming and readings (manga) were still inaccessible on my end. Criticizing is good, but please don't just slap it on my face. If I need to change something, then please specify what and which portion of the site it is. I can't afford to watch all the episodes over again. I have a life too you know...college. 2012-02-11: New site is on its way!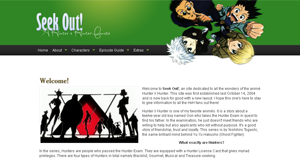 ***
Welcome to Seek Out!, a site dedicated to all the wonders of the animé Hunter X Hunter. This site was first established last October 14, 2004 and is now back for good with a new layout. I hope this one's here to stay to give information to all the HxH fans out there!
Hunter X Hunter is one of my favorite animés. It is a story about a twelve-year old boy named Gon who takes the Hunter Exam in quest to find his father. In the examination, he just doesn't meet friends who are willing to help but also applicants who kill without purpose. It's a good story of friendship, trust and loyalty. This series is by Yoshihiro Togashi, the same brilliant mind behind Yu Yu Hakusho (Ghost Fighter).
What exactly are Hunters?
In the series, Hunters are people who passed the Hunter Exam. They are equipped with a Hunter License Card that gives myriad privileges. There are four types of Hunters in total namely Blacklist, Gourmet, Musical and Treasure-seeking.