Bienvenido!
Welcome to A Glimpsed Horizon, an anime collective which currently houses 717 avatars, 9 textures, 89 PNG renders, and 9 fanlistings. 523,732 downloads have been generated FTW.

Herewith is a glimpse of the avatars.
Beloved Melody PNG's

Added 38 PNG's from 14 titles, 35 of which are by Aiko of the defunct Beloved-Melody.org. I don't know the accuracy of the titles listed below; I only relied on the filenames used when they were turned over. In fact, eight of them had indecipherable filenames that I had to file them under the generic Anime / Game category.
Aquarian Age
Berry Hearts
Carnelian
Castlevania
Chill Flare
PNG management is not yet incorporated in the site's CMS so adding the records still had to be done manually using SQL (messed up a bit due to a semicolon). Aside from that, I've been constantly tweaking things around with most of the changes on tooltips, which now include the Last Download date for resources and the Added date for links.
Lastly, finally decided to dump the site's source code in GitHub so I'll never lose track of my changes.
Self-isolation Stats

Despite having big, itchy feet, I don't actually have troubles just staying at home. Apart from avoiding any coronavirus transmission, it's for the reason that I look forward to clearing my photo backlog. I may have not ticked it off yet, but with the last two days being holidays, my stats as of writing include:
Sending an e-mail notification when someone comments on a post.
Putting back the contact form.
Updating the fanlisting script immediately after laying my eyes on a well-maintained fork.
Applying for the Slam Dunk, Azumanga Daioh, and Magic Knight Rayearth fanlistings.
Coming across an affiliate from 12 years ago!
Catching up to the latest One Piece episode (which I probably will no longer watch any further).
Watching the second season of Nisekoi, Id:Invaded, final season of Fairy Tail, and Handa-kun.
Modifying the avatar download code to no longer use a lightbox.
Adding 51 of the PNG's submitted to Kuusou back when I was a staff there (and it was still alive).
The biggest accomplishment so far, which deserves to be out of the list, is the new layout. Man, 'tsbeen almost ten years! Details of it are here. So long, age of guilt!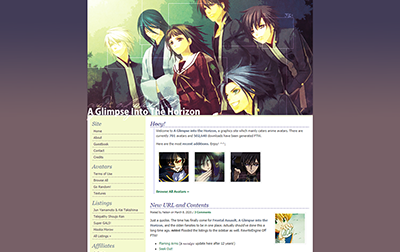 On a different note, I'm losing my job because of the COVID-19 situation. Sucks big time, but it is what it is.