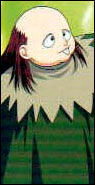 Senritsu
Nen: Emission
Appearance: Senritsu is a character who looks like a boy who is actually a girl! She is semi-bald and has the teeth of a rabbit. All in all, her appearance is pretty weird.
Personality: Senritsu is a very kind and considerate person. Her sense of hearing is very sensitive that she can hear footsteps, whispers and heartbeats even if she's meters away. Lies don't work when you talk to Senritsu because she knows if a person is lying just by his/her heartbeat. She was the only person (except Gon, Killua and Leorio) whom Kurapika confessed with.
Goal: Senritsu's ultimate goal is to find and destroy the Sonata of Death. This is the reason why she applied as a bodyguard of Neon - hoping to find the song in one of the auctions in York New City. The Sonata of Death, which was composed by the Prince of Darkness, can be played in the piano, violin, flute or lyre and brings death to anyone who hears it. Senritsu had a friend who died because of this that's why she wants to destroy it so that it can no longer kill anyone. She has already heard part of the sonata and that made an injury in her arm.
Nen: In the anime, Senritsu is the only Hunter openly introduced as Musical. The music produced when she plays an instrument soothes someone's weariness and illness which means that her aura is emitted through it.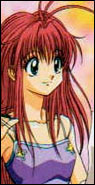 Neon Nostrad
Nen: Specification
Ability: Lovely Ghost Writer
Personality: Neon is a very cute pink-haired girl that is absolutely spoiled. She is the daughter of Kurapika's boss in York New City. Everytime the things she wants aren't followed, she goes wild. Because of her Nen ability, his father became famed - that's why he couldn't afford lose her.
Nen: Neon is a fortune teller. She foretells someone's future using her Nen and none of her predictions turned out wrong. The person who wants to know his/her future should write his/her name and age in the paper where Neon is supposed to inscribe the insight or premonition. When she uses her Nen, a ghost appears in her hand and does the work while Neon is absentmindedly writing. Neon cannot foretell her own future. This ability, unfortunately, was stolen by Kuroro.